Judging by the coverage I've seen, you might be surprised to learn that Germany's second division also returned to action over the weekend.
Granted, if you aren't paying for Fox Soccer Match Pass (at least in the USA), you have no legitimate way to follow the Zweite Liga. I am sure Fox considered nearly doubling their live football content and replay potential, but then what would they do with all the poker, car racing, & wrestling reruns?
Anyhow, with an abject dearth of football out there right now, can it really hurt to try to catch up on it?
OF COURSE NOT!
We love the 2. Bundesliga here at the Fanatic. Many of us have seen our clubs drop down to the second division. In fact, this year's competition features several heavy-hitters that should be familiar with most Bundesliga fans who have been around for at least a few seasons. Hamburger SV finally was relegated for the first time in their club history before the 2018-19 season and failed to make the immediate return back to the top flight. They were joined last summer by VfB Stuttgart, another traditional club who won the Bundesliga in 2007, when the Swabians lost the relegation-playoff round to 1. Union Berlin. Hannover 96, which spent consecutive seasons in Europe between 2011 and 2013, and 1. FC Nürnberg, a traditional club with a history of titles, were directly relegated along with the VfB.
While there are no European spots up for grabs in the second division, and the promotion chase is down to four (at most) clubs, there remains plenty of intrigue with the relegation fight. Currently, just four points separate 12th place from 17th. Last place just three points further back, but current occupant Dynamo Dresden has yet to play their 26th match due to extended quarantine to deal with coronavirus positives in team testing. Generally, the competition on the day-to-day is pretty tight, as you might infer from the fact that the gap from third to fifth in the table — eight points — is equal to the gap from fifth to 15th. And seeing as you are likely just trying to get some extra live sports in your world until your favorite leagues return to action, you may as well take advantage of what's available, yeah?
Great! Let's look at what the first weekend back gave us!
Goals! Goals! Goals!
No, guys. "GOALS!" Not "GIRLS!"
The eight second-division matches played over the weekend delivered a total of 23 goals. 13 of the 16 clubs that played scored at least in their first match back from the coronavirus pause. Only Nürnberg, Darmstadt, and Heidenheim failed to get on the scoreboard. You are free to dismiss it all as no enough preparation time or subpar defending, but I might suggest that with a dearth of live football available, you opt to just call it "fun."
Personally, I like goals.
Oh, the DRAMA!
Know what else I like in my sports?
Five of the eight matches played saw a goal in the time added at the end of the second half. Four of those goals altered the match's ultimate outcome. Marvin Wantizek's tally six minutes into added time did nothing but confirm for Darmstadt that they would leave Karlsruher empty-handed. Marcos Alvarez (VfL Osnabrück), Havard Nielsen (SpVgg Greuther Fürth), and Andreas Albers (Jahn Regensburg) each secured a point with their late equalizers.
The most-discussed added-time goal, however, belongs to Phillip Tietz of SV Wehen Wiesbaden. While VfB Stuttgart personnel cannot stop being publicly upset at the series of events that led to a video review and penalty award in the late stages of their 2-1 loss, it would be a disservice too SVWW to not acknowledge that the promoted side that is still digging out from a deep hole from their spectacularly bad start to the season (one point from their first six matches, while posting a gaudy minus-14 goal differential) took six points from a heavy favorite from promotion this season.
Otherwise, yeah, it sounds like maybe VAR shouldn't have been used there in the first place.
But it was, so . . .
Additionally, Viktor Gyökeres delivered in the 84th minute to provide the only goal in FC St. Pauli's victory over Nürnberg. Hard to believe that an game-winner coming ten minutes before added time has to take a back seat to four other goals, but "that's football!"
Surprise!
Somewhere between "cliché" and "tired joke" falls "this is the strongest 2. Bundesliga season ever!" This applies also to "the 2. Bundesliga is the best second division IN THE WORLD!"
At the same time . . . many clichés and tired jokes have a tangible path to some degree of truth. Throw in a little "that's football!" and things get interesting.
Only one team from the top half of the table won their match over the weekend. Granted, Hannover did not play, but all eight teams above them in the table when the matchday started dropped points. Hamburger SV (3rd entering the weekend) and Greuther Fürth (5th) battled to a draw. The other six teams lost points to teams from the lower half of the table.
League leader DSC Arminia Bielefeld settled for a split with VfL Osnabrück (12th), a club that had taken just three points from its prior eight matches. The aforementioned Stuttgart (2nd) lost it's hold on a promotion spot as Wehen Wiesbaden (16th) brought the relegation-playoff spot uncomfortably close to Nürnberg and Sandhausen. 1. FC Heidenheim (4th) missed a chance to legitimately insert themselves into the promotion chase and remain four points adrift of the top three after losing at KSC (17th), a team that had won just twice since matchday seven! SV Darmstadt 98 (6th) had their ten-match unbeaten run ended by VfL Bochum (15th), a club that has spent most of the season in the bottom three. And finally, Holstein Kiel (8th) blew a two goal lead after the 75th minute mark to Jahn Regensburg (10th), who had not scored two goals in a match since before Christmas.
Much like with the late goals, you can easily find ways to explain these results as a consequence of the time away and short preparation time for the restart.
But one season-long surprise to consider is the reign of Bielefeld atop the league table. You won't find many who had listed Arminia as a promotion candidate last summer, but they have held onto first place since matchday 15 and have built a seven-point cushion to heavy favorites HSV and Stuttgart. With another four points to fourth place, Bielefeld would have to have a disastrous finish to not finish in the top three. To date, they have scored more goals than anyone else in the league, while conceding the fewest.
Jahn Regensburg : Holstein Kiel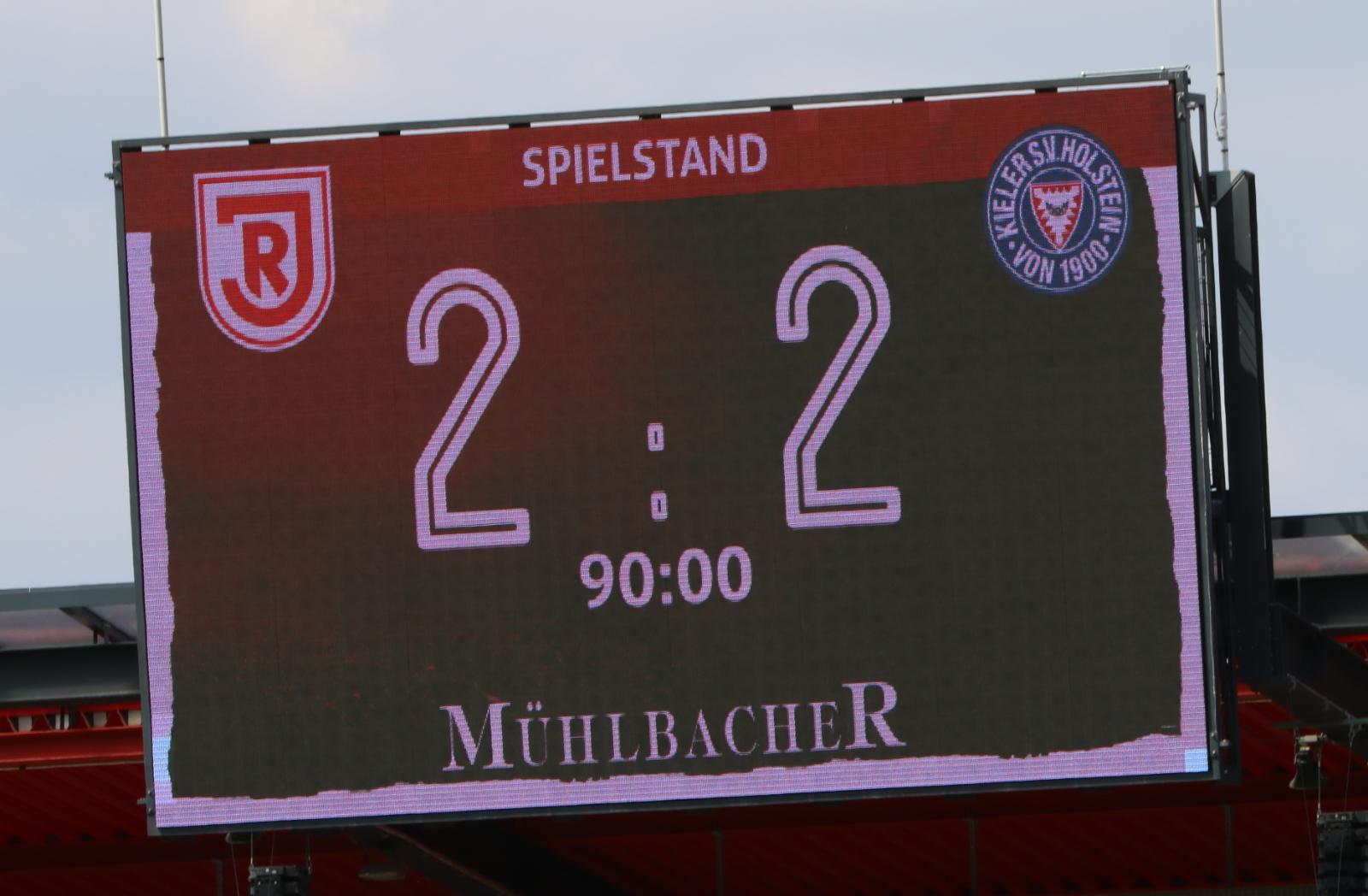 Holstein Kiel took the lead just three minutes into play through Jae-Sung Lee's team-leading eighth goal of the season. Finn Porath doubled the visitors' advantage in the 58th minute. Sebastian Stolze brought the hosts back to within a goal with a 75th minute score, setting the stage for Andreas Albers' added-time equalizer from the penalty spot.
The draw ended a three-match losing streak for Regensburg. Kiel has now gone four matches without a win.
VfL Bochum : 1. FC Heidenheim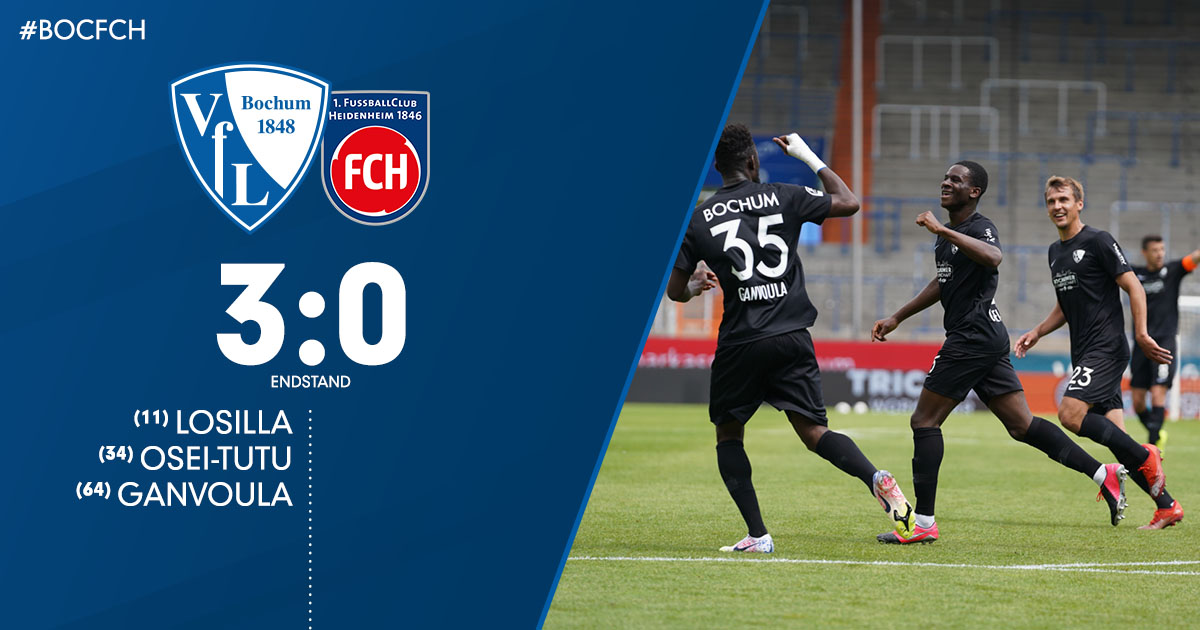 Bochum enjoyed goals from Anthony Losilla, Arsenal-loanee Jordi Osei-Tutu, and Silvere Ganvoula on the way to a comfortable win over Heidenheim.
Bochum has gone four matches without a loss to climb away from the relegation fight. Despite losing two of their last three matches, Heidenheim remains on the fringe of the promotion chase.
FC Erzgebirge Aue – SV Sandhausen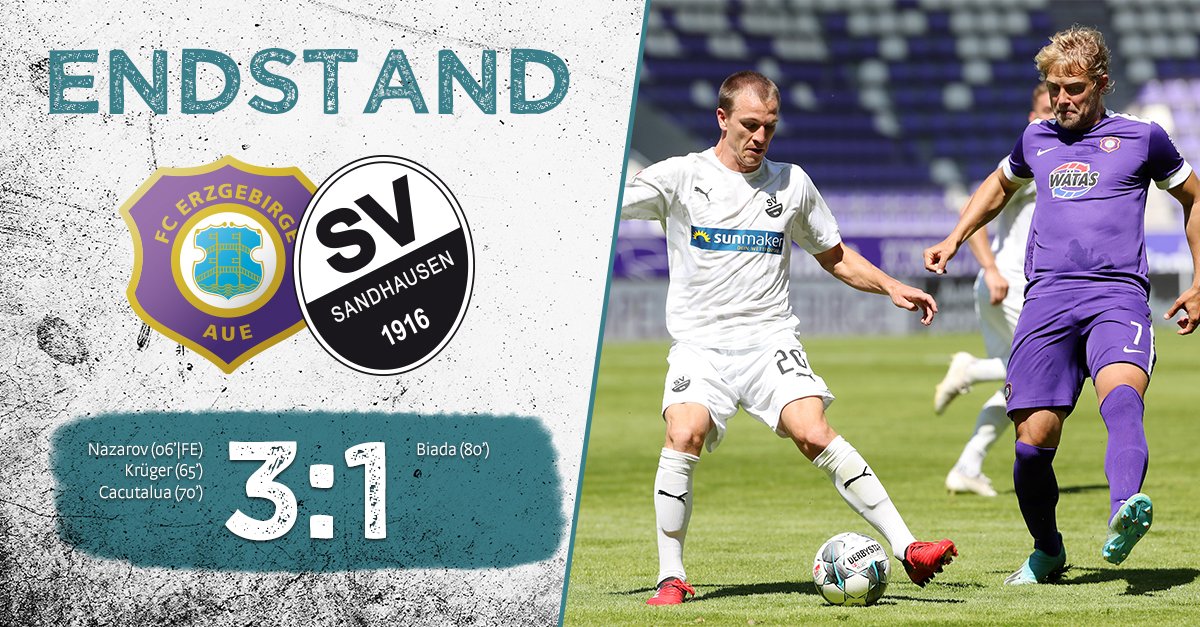 Long-time HSV fixture Dennis Diekmeier was shown a red card just four minutes into Sandhausen's visit to Aue. Dimitirij Nazarov converted the penalty as Aue cruised to their ninth victory in 13 home matches. Florian Krüger and Malcolm Cacutalua expanded the hosts' lead to three before Julias Biada got one back for Sandhausen.
Sandhausen has not won in seven matches.
Karlsruher SC : SV Darmstadt 98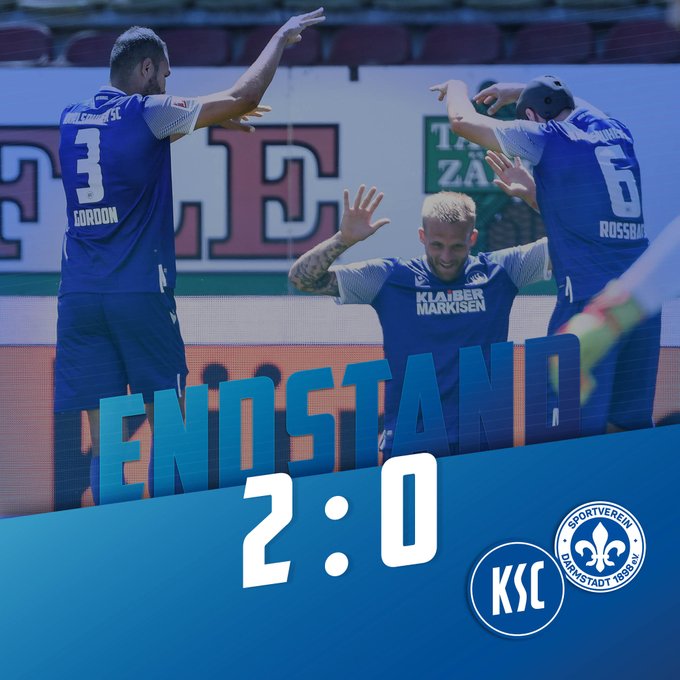 Philipp Hofmann and Marvin Wantizek provided the goals in KSC's win over Darmstadt. Hofmann, who once was part of FC Schalke 04's youth setup, now has 12 goals on the season, fifth-most in the 2. Bundesliga.
It was the Lillies' first loss since December 1st. The KSC entered the weekend having won just twice since matchday seven.
Arminia Bielefeld : VfL Osnabrück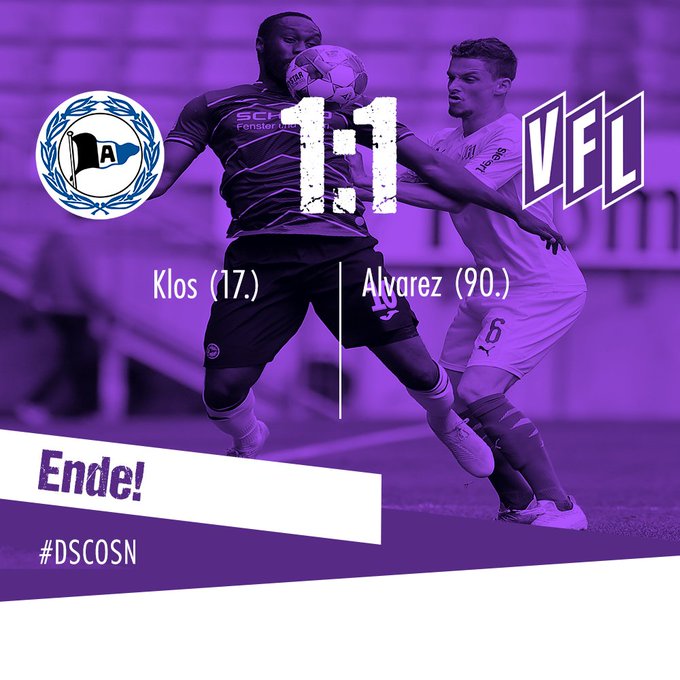 Fabian Klos scored his league-leading 17th goal to put Arminia ahead in the 17th minute, but Osnabrück's bend-don't-break defense did enough to keep it close until Marcos Alvarez could provide the added-time equalizer.
Bielefeld remains unbeaten in 2020 and maintains a strong hold on first place. Osnabruck are winless in their last nine matches.
FC St. Pauli – 1. FC Nürnberg
Nürnberg keeper Christian Mathenia was shown a red card in the 55th minute, but this match remained scoreless until the 84th minute, when Brighton-loanee Viktor Gyökeres provided the match-winner just 16 minutes after entering as a substitute.
St. Pauli has climbed steadily up the league table by winning three of their last four matches. Nürnberg, losers of three of their last four, remains mired in the relegation fight.
SpVgg Greuther Fürth : Hamburger SV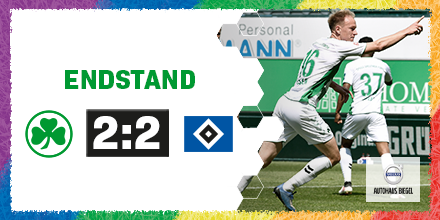 Havard Nielsen got the first and final goals for Greuther Furth to salvage a draw at home to the HSV. Leverkusen-loanee Joel Pohjanpalo and former Borussia Dortmund youth player Jeremy Dudziak provided the goals for Hamburg.
Hamburg returned to second place thanks to Stuttgart's loss, but have won just once in their last five matches. Greuther Furth are unbeaten in four, with a win and three draws.
SV Wehen Wiedbaden – VfB Stuttgart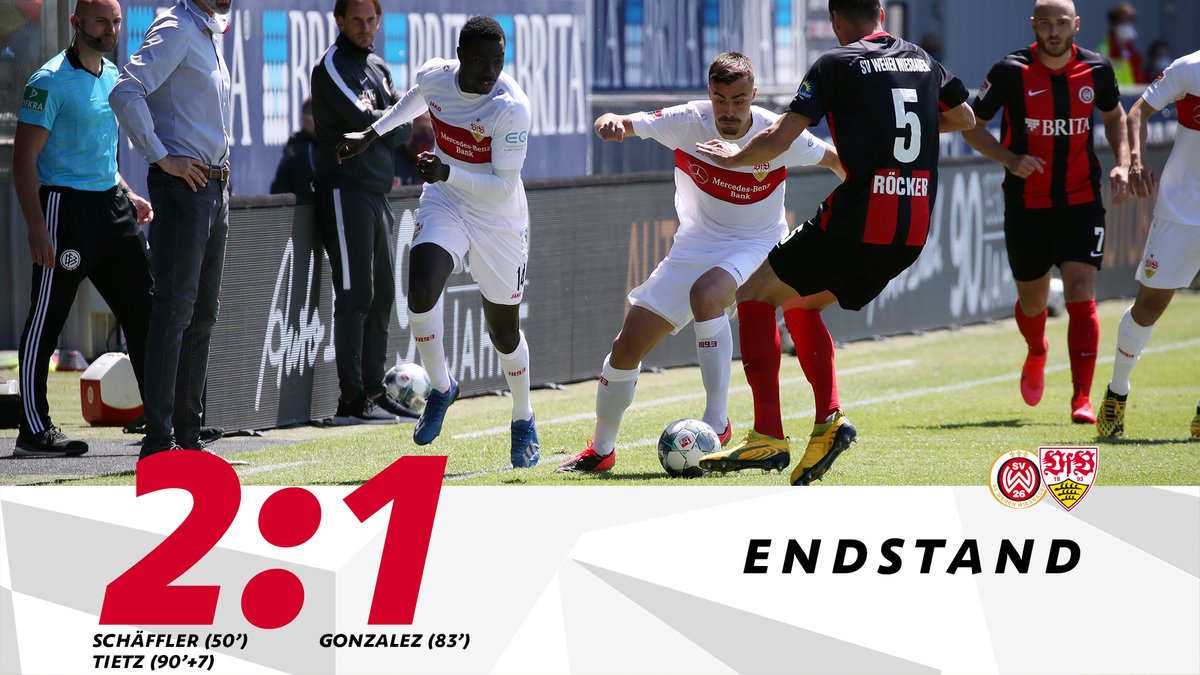 Manuel Schäffler gave Wehen a lead in the 50th minute with his 16th goal of the season. Nicolas Gonzalez equalized in the 80th minute, setting the state for the contested VAR decision and Phillip Tietz's game-winner from the penalty spot.
Stuttgart has lost two of their last three matches. Wehen has won consecutive matches for the third time this season.
The Table