Eintracht Frankfurt made headlines across Europe last season after their mystifying jaunts both at home and abroad saw both Champions League qualification and a Europa League quest pulled agonisingly short in the springtime.
The question at the start of the 2019/20 season was whether die Adler could continue their progress despite streamlining their squad and breaking up the trio of Luka Jovic, Sebastien Haller, and Ante Rebic.
The answer to that is probably more subjective than simply looking at the table (Eintracht finished 9th), when you consider a hotly-contested DFB-Pokal semi-final against FC Bayern München in the books, and continued participation in the UEFA Europa League to come next month.
Frankfurt ended up looking distinctly average being placed between 7th-14th throughout the season, but flirted with both European qualification and relegation throughout the season until the final two games of the season. In fact, there's even an argument that Frankfurt weren't so much average, as they were simply maddeningly inconsistent.
Only losing three of their opening ten league games, with two of those to RB Leipzig and Borussia Mönchengladbach, gave Frankfurt fans cause for optimism going into November that their seventh place start was deceivingly low. Particularly after the Eagles thrashed FC Bayern 5-1, ending Niko Kovac's tenure at the Rekordmeister.
However, two crippling winless spells kept Frankfurt away from the Top 7 and focused on fending off doubts of relegation. The first run came between November and Christmas spanning seven games, and another between February and May for six games. Die Hesse showed that they could string together wins as well, including the final stretch of the season collecting 17 points from a possible 24.
Eintracht continued to peddle their moniker of being a cup side with an impressive DFB-Pokal run through to the semi-finals where they succumbed to FC Bayern at the Allianz Arena in a comeback-victory of 2-1. The highlight of that though was a 3-1 win at home to RB Leipzig in their Round of 16 clash, showing their dedication to the Pott.
Meanwhile they continue to be in the Europa League despite an inconsistent form throughout. An initial snag away to RC Strasbourg was rectified before a group stag where they both won and lost to each opponent in their ground including Arsenal, Standard Liege, and Victoria Guimarães. They currently need to turnaround a 3-0 deficit when they travel to Basel next month which shows just how inconsistent they've been.
However if they do that, they have a great chance of making it all the way to the final – which would majorly change the season's perspective.

Highlights
With an inconsistent season comes lows but also great highs. A home stretch of 3-0 to Leverkusen and 5-1 over FC Bayern gave Frankfurt hope of a similar season to last directly before their winter free-fall.
The end of January and beginning of February saw two home wins against RB Leipzig (2-0 in the league, and 3-1 in the DFB-Pokal, before a 5-0 win also at home to FC Augsburg. This then started the springtime free-fall.
Five wins in seven at the end of the season dragged Frankfurt away from rumours of relegation, with a 3-0 win away to Werder Bremen and 4-1 in Berlin the great games of the post-Pause period.
Lowlights
The season was likely to be a lowlight considering the upheaval in the squad, but realistically it kept itself to the two barren runs in the season. The winter run of six losses and a draw saw negative results against Schalke, Köln, and Paderborn, while the springtime troubles saw the team concede 18 goals in 5 consecutive losses including 4-0 losses in Dortmund and Leverkusen, and a 5-2 defeat in München.
Tale of the tape
Bundesliga
Record: 13-6-15, 45 points (1.32 per game), 9th in Bundesliga
Home: 29 points (8-5-5) Away Record: 16 points (5-1-10)
Goals: 59 (1.74 per game), Goals Against: 60 (1.74 per game), Diff: -1
xG: 58.33, xGA: 50.93, Diff: 7.4, xPTs: 52.72
DFB Pokal: Semi-final
UEFA Europa League
Summary: Round of 16, currently 3-0 down to FC Basel
Overall record: 9-1-5
Group stage: Second place qualifier
Attack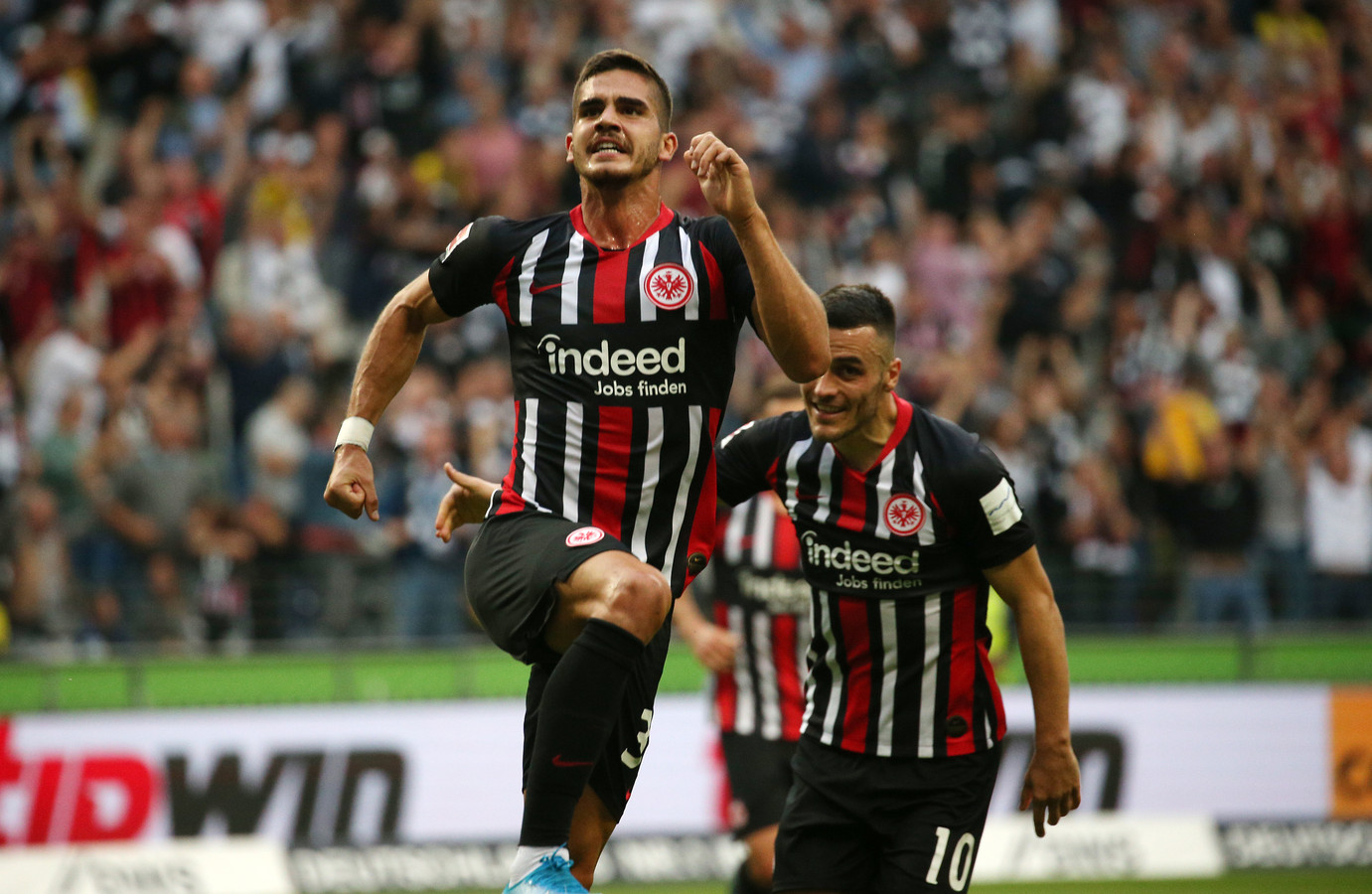 Many people asked where the goals were going to come from after the striking trio of Haller, Rebic, and Jovic were sold for profit over the summer. However it may shock many to know that Frankfurt only scored one less this term than the last in the Bundesliga. Even when it comes to shutouts, it's only a couple more nils than the previous season.
The scorers are somewhat less concentrated than last year, understandably. Filip Kostic was also more goal-shy this season (four), however Andre Silva replaced the production of his loan-switchee Ante Rebic improving by two with 11 goals, while Martin Hinteregger scored the same amount with nine.
Silva came through in the latter part of the season, spurring optimism that he can replace Jovic's productivity next season, while Bas Dost scored eight and Goncalo Paciencia had done handily with seven goals before an injury cut his season short.
Defence
Surprisingly it was Frankfurt's defence that took the hardest hit this season. Adi Hütter found it difficult to find his perfect formation throughout the year and it showed with disjointed displays at the back.
His insistence to play with three at the back and two attacking minded wing-backs showed the defence's age, lack of speed, and tendency to panic under pressure. There were 12 more goals conceded this year compared to last year, and three less clean sheets (five). Not to mention that seven games (or 20% of the season) saw die Adler concede three goals or more.
Midfield
Eintracht's midfield is difficult to summarise as it never felt settled throughout the season. A mixed bag. Filip Kostic remained the spark in Frankfurt's step and will no doubt be the first concern when it comes to potential outgoings this transfer period.
Sebastian Rode, Djibril Sow, Mijat Gacinovic, and Dominic Kohr rotated looking for consistency throughout the season, and Daichi Kamada seemed to have carved out an attacking position in Hütter's midfield with a hat-trick in the Europa League against Salzburg as well as a brilliant move against Hertha BSC in Eintracht's 4-0 win in Berlin to set up Andre Silva.
In short: there needs to be some more consistency and a system set up next season – but the building blocks are there.
Transfer review
The transfer period was quite a manic one for Frankfurt. The idea was to remain competitive while intending to profit from their top talent at a time where their value is at its highest. Jovic and Haller were sold for a staggering €110 million, and Rebic is in a two-year loan switch with Andre Silva before money changes hands later on.
Elsewhere, a number of players were brought in for €10 million or less, providing youth (Sow, Kohr, Joveljic) but also experience (Dost, Ilsanker). A few loans were made permanent also (Trapp, Rode, Hinteregger).
Andre Silva, Martin Hinteregger, and Kevin Trapp have proved great value this season; while Bas Dost, and Dejan Joveljic (who was loaned to Anderlecht halfway through the season) seem to be undercutting their expected value compared to when they were signed.
Player of the season: Filip Kostic
Filip Kostic was the unsung fourth wheel of the attacking force of Eintracht's 2018/19 season with six goals and eleven assists in the Bundesliga.
This season has seen two less goals for one more assist, but Filip has seen more of the play run through him and he has been up to the task in creating plays and bringing the midfield and the attack forward. By far the most consistent and valuable member of the Eintracht squad over the course of the year.
Grade: B-
The season has been a topsy-turvy one for die Adler but to remain on the fringes of the European places, a deep cup run, and the potential to continue their Europa League dream despite the upheaval that the season's transfer activity brought is reason to celebrate in itself.
For every bright spark that Eintracht had, they seemed hellbent on concealing with disappointing results and performances. But with more consistency, both with their system, formation, team, and performance, there is no reason why Frankfurt can't challenge the top five next year.