Coach Florian Kohfeldt summed up Werder Bremen's season perfectly in just four words following the play-off escape against 1.FC Heidenheim- "Scheiße Saison, geiles Ende" ('shit season, cool ending').  A better summation you will not find, as Werder did indeed suffer a terrible season, only to experience the joy and utter relief at securing their Bundesliga future.
Many observers said that it would a terrible shame if the Grün-Weißen were to be relegated from the German topflight with all their history and status for the first time since 1981, but more of a shame was the fact that Werder only really woke from their slumber and turned it on when they really, really had to. They were boxed into a corner before they showed any appetite for the fight.
Having finished 8th the previous season and missed out on a Europa League place by a single point to Eintracht Frankfurt, there was an air of optimism at the Weser Stadion that they could go one better this season. Without the departed Max Kruse, they suffered back-to-back opening defeats to Fortuna Düsseldorf and Hoffenheim, but looked to have got things back on track with successive wins over Augsburg and Union Berlin.
No-one then would have guessed that only one more victory would be achieved before the Winterpause (a 3-2 away win at VfL Wolfsburg). Florian Kohfeldt's side huffed and puffed, but just couldn't put a decent run of results together and ended the Hinrunde in a very worrying 17th place with just 14 points on the board. Time to panic and sack Florian Kohfeldt? Not at Werder, who put their faith in the coach and carried on.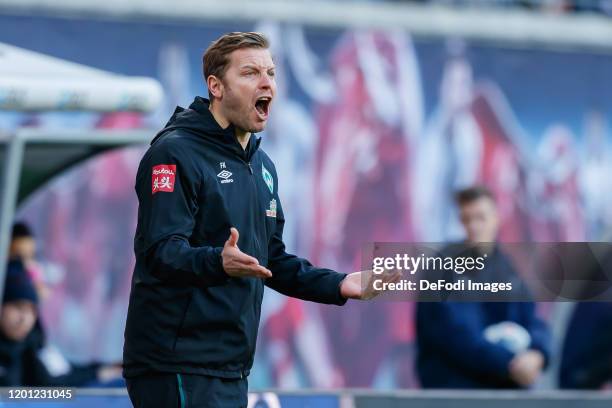 If anyone believed the 1-0 win over Fortuna in the first game back after the Winterpause would be the start of a recovery, they were sadly mistaken with six losses and a draw following in their next seven matches. By the time the corona virus lockdown was imposed, Werder were still 17th and looking like they were rapidly sinking in quicksand.
Entering the Geisterspiele part of the season, points were all that concerned Werder and even though they garnered wins against Freiburg, Schalke and Paderborn, results elsewhere meant that going into the final weekend, their fate wasn't in their own hands and the best they could wish for was the play-off spot. The fact that they thrashed Köln would have been academic, had Union Berlin not also beaten Fortuna.
A final reprieve against Heidenheim (not fierce rivals HSV) arrived, but Werder still contrived to underwhelm with their performances and needed away goals in the second leg to secure their status after a dismal first leg. There would have been no complaints had the 2. Bundesliga side actually prevailed.
So, Werder survived by the thinnest of margins and live to fight another day. As Kohfeldt rightly summarised- "Scheiße Saison, geiles Ende".
Highlight(s)
If you were a regular at the Weser Stadion this season, highlights were rarer than any German fan praising Dietmar Hopp. Only one win was achieved before the lockdown (and one after) with just nine goals scored in their own stadium. If you went to the stadium on the banks of the Weser looking for joy this season, you wouldn't have found much.
Securing 2-2 draws away at both Borussia Dortmund and Bayer Leverkusen in the Hinrunde hinted at an ability in the Werder squad that was sadly lacking in many other encounters. The performance at home to Bayern on matchday 32 did show tremendous character and they were only denied a deserved point by a late wonder save from Manuel Neuer.
The 6-1 win over Köln has to be the ultimate highlight though as it brought Werder back from the dead when the result arrived in from Berlin that Fortuna had bottled it.
Lowlight(s)
The season as a whole can be described as a lowlight after starting with such optimism. Their now traditional thrashing at the Allianz Arena arrived on matchday 15 and this time round was a 6-1 defeat that their Bavarian foes inflicted.
This was however followed by an even more embarrassing 5-0 home defeat to Mainz with Robin Quaison helping himself to a hat trick against a very leaky Bremen defence. The Nullfünfer then did the double over Werder in the relegation six-pointer on matchday 33.
As mentioned, their home form throughout the season was an absolute low.
Tale of the Tape
Record: 8-7-19, 31 points (0.91 per game), 16th in Bundesliga
Home Record: 9 points (2-3-12) Away Record: 22 points (6-4-7)
Goals: 42 (1.24 per game), Goals Against: 69 (2.03 per game), Diff: -27
xG: 42.1, xGA: 49.8, Diff: -7.8
Attack
The loss of Max Kruse was felt deeply this season and none of the forwards in the squad were able to replace his eleven goals. Milot Rashica and Yuya Osako both scored eight with Josh Sargent and Niclas Füllkrug hitting four apiece. 21-year-old Johannes Eggestein and 17-year-old Nick Woltenade didn't find the back of the net during their brief appearances.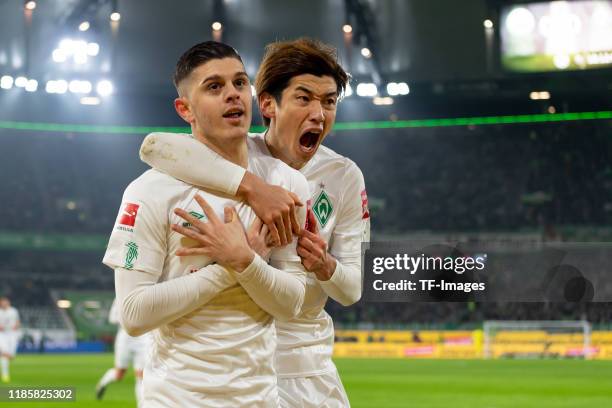 Werder scored 42 goals this season giving them an average of 1.24 per game. Their home record however dropped to 0.8 goals per game leaving the home fans deeply unsatisfied. Werder ranked 13th in the Bundesliga for total shots (419) and 14th for percentage of shots on target (32,2)
Defence
There were 69 goals conceded giving Werder an average of 2.03 per game. Jiri Pavlenka was the man between the sticks all season apart from matchday 25 when Stefanos Kapino deputised against Hertha Berlin. Pavlenka ranked third in the Bundesliga for saves made (106) behind Yann Sommer and Rafal Gikiewicz.
The predominant back four saw Theodore Gebre-Selassie and Marco Friedl as full backs with Niklas Moisander and Milos Veljkovic as the central partnership although there was also game time for 'Ludde' Augustinsson when injury permitted, and Kevin Vogt even dropped deeper when required. The impact of Ömer Toprak was limited through injury.
Marco Friedl, while not spectacular, was one of the more consistent performers this season. He led the team on tackles in the defensive third (45), pressures in the defensive third (219) and total tackles made (69).
Midfield
Davy Klaassen stood out as the top midfielder, although questions need to be asked as to what caused the decline in Maxi Eggestein's performances this season. Klaassen scored seven times and provided five assists, Eggestein, his partner in the centre (and close to a national team call-up last season) contributed one goal and three assists.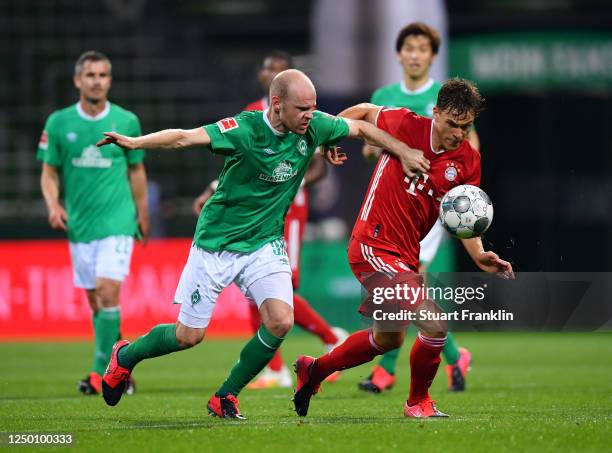 Nuri Sahin was completely out of the picture in the second half of the season, while Kevin Vogt has now returned to Hoffenheim after providing the experience and leadership the side lacked. Leonardo Bittencourt scored four. In terms of shot creating actions Rashica led the way with 85, followed by Klaassen (79), Bittencourt 68) and Maxi Eggestein (67).
Transfer Review
A lack of funds meant that Werder had to be creative with incomings in the summer. The loss of Max Kruse was compensated with the €6.4 million signing of Niclas Füllkrug from Hannover, but a cruciate knee ligament injury suffered after matchday 4 would rule him out for almost the entire season.
Marco Friedl signed on a permanent deal from Bayern, while Ömer Toprak came in on loan from Borussia Dortmund. Like Füllkrug however, injury would rob Werder of his services for much of the campaign.
The un-prolific Davie Selke returned on an initial loan from Hertha Berlin, while both Leonardo Bittencourt and Kevin Vogt came in on loan from Hoffenheim. The wisdom of these loans has to be questioned though with large payments and buying clauses activated once survival was achieved. Davie Selke scored zero goals, but will command a €10 million fee next summer, while both Toprak and Bittencourt will require substantial payments to be made to both BVB and TSG this summer taking away from any potential transfer budget. Bundesliga survival comes at a cost.
Player of the Season
Jiri Pavlenka performed well in goal and Leonardo Bittencourt provided an important cameo during the Geisterspiele with some important goals, but throughout the season Davy Klaassen was the most consistently impressive performer. He scored seven goals and added five assists and was the man of the match in the important 5-1 win at Paderborn on matchday 31. Aside from Milot Rashica, he provided the most shot creating actions and also put in the highest number of tackles in the midfield third on the team (34).
Sadly for Werder, he is now being linked with a return to his former club Ajax.
Grade: E
Having been a most promising student last season, Werder were oh so close to flunking the class this time around. They came as close to relegation as is possible, and they will be all to aware that they had a massive slice of luck in their ultimate survival (free beers to Union Berlin fans next season?).
Their report card would indicate a fail, but the potential is still there. Florian Kohfeldt will remain at the club, but serious lessons will need to be learned if the Grün-Weißen are not to follow their Northern rivals HSV into obscurity.