Borussia Dortmund have beaten a host of clubs to the signature of English wonderkid Jude Bellingham. The Bundesliga runners-up are reportedly paying €23 million and tying the teenager to a long-term contract. After weeks of speculation the news has been confirmed.
There will of course be plenty of comparisons to Jadon Sancho, but the 17-year-old is his own man (or should that be boy?). Here we take a closer look at BVB's new young English sensation.
'Sensation' is an oft bandied around term, sometimes thrown at a player that probably doesn't deserve it, but to be showing the quality that Jude Bellingham is, at his age, sensation is absolutely the right word to be using.
That's why Manchester United and a raft of other top clubs have been tracking the teenager for so long, but much to the disappointment of the Red Devils, the youngster has opted to follow the path set by Jadon Sancho and signed for Borussia Dortmund.
Hardly even registering on the footballing radar prior to the past season, Bellingham has burst onto the scene at his home-town club Birmingham in the Championship this season. Given his chance at the start of the campaign, he scored the winner in only his second appearance as a substitute and then added another in his first league start in Birmingham's next game. So far this season he has notched up 40 league games with 31 as a starter clocking up 2620 minutes.
It is worth repeating, that he has only just turned 17-years of age.
The Blues' Spanish coach Pep Clotet has utilised Bellingham across a number of positions this season, which just highlights the versatility he already possesses. He's mainly played on the left-wing or in central midfield in a 4-4-2 line-up. However, he has also featured from the right and as part of the front two, in addition to playing as a holding midfielder and behind the main striker in a 4-2-3-1 shape.
So, versatility…check. What about composure? Well he has settled into life as a first-team regular with ease showing little sign of nerves or inexperience. He has clocked up four goals and two assists this season. It may only be the second tier of English football, but the Championship is a tough league, but one the youngster has blossomed in. Any fears that he won't cope with the Bundesliga look unfounded.
Okay, so versatility and composure. Does he have the skills?
As a winger his style of play looks very well suited to BVB. Like Jadon Sancho he doesn't stick solely to the wide areas but tends to drift inside when it best suits. Having a full back/ wing back who is able to overlap such as Raphael Guerreiro or Nico Schulz(?) is what suits his style.
Bellingham possesses a great first touch, has the skills to control the ball in tight spaces and can create space by eliminating the opposition markers either in a clear-cut one-on-one situation or when closed down by more than one marker. He can be a little over-ambitious at times attempting the killer pass too soon, but his exuberance shouldn't be tamed at this stage.
His passing needs improving in terms of accuracy, but his game intelligence and awareness of what is going on around him is highly advanced. Despite his years, he's developing into a big, strong player (5 ft 11 inches) and he's shown that he is not easy to bully off the ball. Defensively he puts in the necessary work and this season has made 57 tackles and made 30 interceptions.
Whether Jadon Sancho stays, at BVB or whether he goes, Dortmund looks to be ideal fit for the highly promising English youngster. By no means the finished article, the Schwarzgelben have shown they are willing to blood young talent such as Sancho, Leo Balerdi, Giovanni Reyna, Mateu Morey, so why not add Jude Bellingham to that list?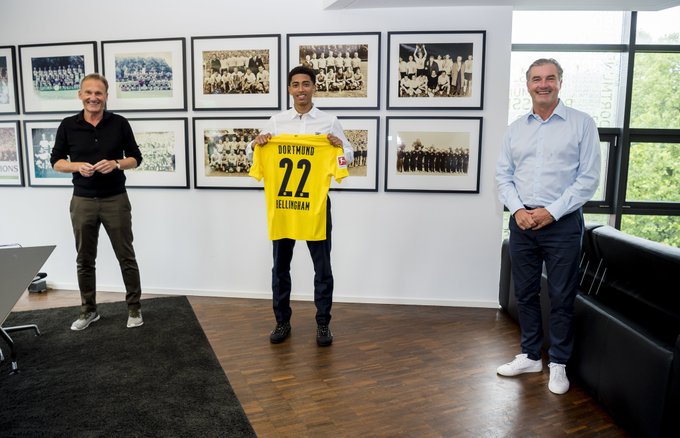 "Jude Bellingham confidently chose BVB and, of course, was primarily concerned with the sporting perspective that we showed him," said sporting director Michael Zorc, adding: "He has enormous potential that we share want to develop with him in the coming years. He already has a surprising amount of quality in his own possession as well as against the ball, and on top of that, the player also has a strong mentality. We immediately see Jude as a reinforcement for our professional squad, but of course we will also give him the time to get used to the higher level."
There is a real buzz in England about this youngster. Let's not say he's the new Sancho, but let's just look forward to that buzz being heard in the Bundesliga.