As most people are surely now aware, expected goals (xG) metrics compare scoring attempts to large numbers of similar previous efforts in order to gauge how likely they are to result in a goal being scored. Here we look at some of the stand-out goals and misses in xG terms from the 2019-20 Bundesliga season.
The best goals in xG terms
1. Kevin Kampl for Leipzig vs Duesseldorf (17 June)
Kampl's strike is particularly impressive because only one open-play shot in every 112 from this part of the pitch results in a goal, according to Understat's model.
Kampl took just five shots in the league all season, scoring twice in the process, and his other goal – away against Hertha – was a fine solo effort as well.
The German-born Slovenian international joined Dortmund when the wheels were falling off towards the very end of Jürgen Klopp's tenure and failed to shine, but he's since rebuilt his reputation in a deeper role first at his boyhood club Leverkusen and now at Leipzig.
2. Rouwen Hennings for Duesseldorf vs Augsburg (20 June)
While this equaliser on the penultimate match-day of the season wasn't enough to keep Düsseldorf up, Hennings' 15 league goals this term ought to be sufficient to draw interest from other Bundesliga sides should he want to leave, even if four of those strikes did come from the penalty spot.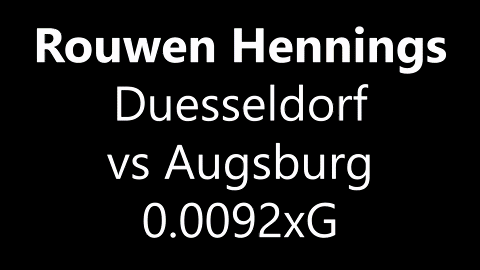 3. Florian Neuhaus for Gladbach vs Mainz (25 Jan)
My personal favourite from the list, scored not long after Neuhaus had come off the bench at Borussia-Park. A deft (albeit unwitting) assist from Mainz keeper Robin Zentner, who's rewarded with a close-up view of what must be the season's most exquisite finish.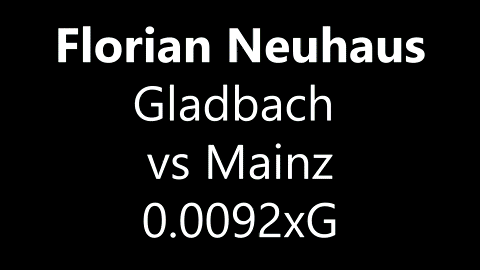 4. Emre Can for Dortmund vs Leverkusen (8 Feb)
Can ensured that his Dortmund debut won't be forgotten anytime soon, although his side proceeded – you may have heard this one before – to throw away a lead twice and ended up losing the game.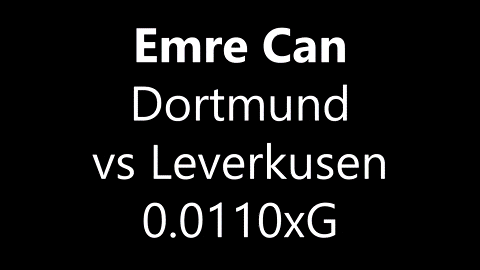 5. Marco Richter for Augsburg vs Dortmund (18 Jan)
This is what's known technically as a thunder-bastard.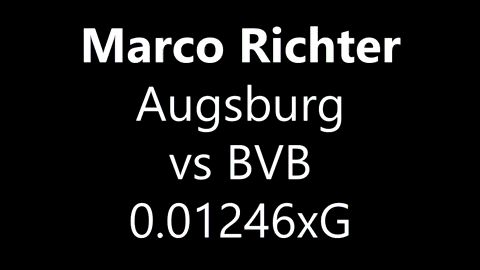 And here are the rest of the top ten, which range from sublime to borderline farcical: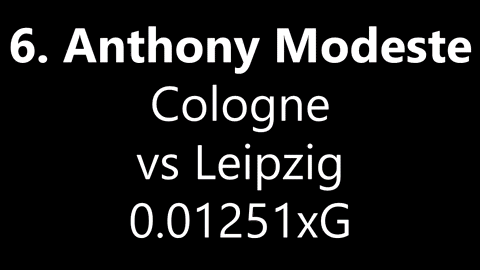 The easiest finishes
These are the five most straightforward 2019-20 Bundesliga strikes in xG terms: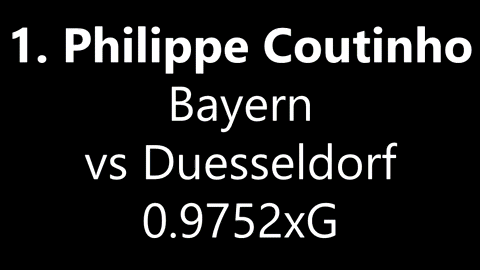 Alassane Plea's goal against Augsburg was a comedy in three acts, so the Benny Hill-esque fast-forward effect is perhaps fitting, but it really deserves a solo outing: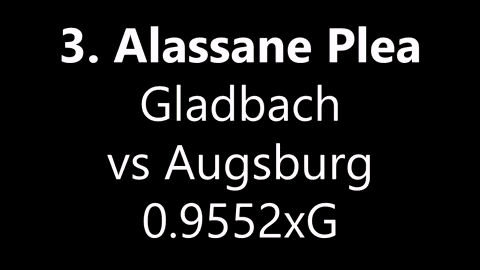 That's Tomás "Women should stay at the stove and not officiate men's football" Koubek with the error, so hopefully sympathy has been in very short supply.
The worst misses
The worst Bundesliga miss of the season, according to Understat at least, was by Karim Bellarabi against Hoffenheim at the start of February. Infuriatingly, I haven't been able to track footage of that one down, so we'll look instead at the runner-up.
That accolade belongs to Patrick Herrmann against Dortmund in October, although to be fair to Herrmann, the main reason he missed the chance was that Mats Hummels clattered into him just as he was about to strike the ball.
I recall Hummels receiving praise at the time for making a great tackle, but it looked like a stonewall penalty to me then and the intervening months haven't done anything to change that.
Still, perhaps this is some kind of karmic retribution upon Herrmann for the many dreadful haircuts he's forced us to look at over the years.