Monaco once had Prince Rainier ruling the French principality, but if he lives up to expectations, Borussia Dortmund's new signing Reinier will soon be the king of Dortmund. The arrival of the 18-year-old Brazilian at the Signal Iduna Park adds another attacking weapon to Lucien Favre's arsenal and the player himself is not short of ambition as he begins life in the Bundesliga.
Having only signed for Real Madrid back in January from Brazilian side Flamengo for €30 million, an injury plagued time in Spain has seen him move to Germany looking to gain regular first team action and if the experience of Achraf Hakimi is anything to go by, both BVB and the player are set to profit in a big way.
"When the option to join BVB came about, we didn't need to think twice," Reinier told Dortmund's club website. "BVB have a reputation for developing players. When this option came up, we knew that it would be the right one.
"I want to grow as a player and learn new things. I'd also like to continue my personal development and learn English and German. It's important for my life going forward. I want to be successful with the club, win titles if possible, and bring the fans a lot of joy."
Reinier Jesus Carvalho to give him his full name has drawn comparisons with fellow Brazilian Kaka, but this is more to do with his preferred position more than anything else. He operates principally as a traditional number 10 behind a central striker but is versatile enough to play anywhere across the front line be it wide left, right, or even as the central striker.
His strengths are manifold- the reason Real Madrid splashed out in the first place. At 6ft 2 inches tall, he is not your typical diminutive playmaker, but has the physique and aerial ability to cause defenders problems. He is powerful rather than pacey but is very attack minded. He has a powerful shot from distance and is not shot-shy. Typical of Brazilians, he is very comfortable on the ball and has excellent technical ability.
"He always knows what his next move should be. He's very creative and has a touch like a futevolei (beach football) player" explained Blaise Bourgeois, an editor at One Football and a Flamengo supporter. "Reinier Jesus loves being on the end of a good piece of interplay. He has that ability to draw multiple players close to him due to his speed and strength, which then allows him to create opportunities through the open space for his teammates".
This will be music to the ears of Erling Haaland.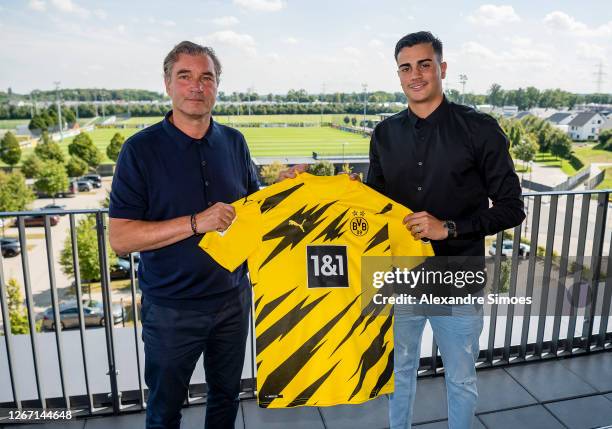 Dortmund's past experience with Achraf Hakimi on loan from Real gives them optimism, as does their past experience with Brazilian imports with the likes of Dede, Marcio Amoroso and Julio Cesar all club legends.
"Kaka is a player that I would like to model myself on. But I don't want to be a second Kaka; I want to be Reinier," the player explained. "I like to play quickly, with short passes and one-twos. I like to help my teammates, to get them in good shooting positions or to have a go at goal myself."
With Reinier adding to an attacking line-up of Julian Brandt, Marco Reus, Thorgan Hazard, Jadon Sancho, and Giovanni Reyna, the Schwarzgelben are spoilt for choice in the final third and there will be no excuses for nor creating/ scoring enough goals.
If Reinier is indeed crowned the 'King of Dortmund', his coronation might well coincide with BVB being crowned Bundesliga champions.