Born in Eastwood, near Nottingham, Tony started his career at Nottingham Forest. After loan spells at Lincoln City and Doncaster Rovers, Woodcock broke into the Forest first team in 1976–77, helping the team to promotion to the First Division. Woodcock would later credit the Lincoln move and the leadership of Graham Taylor as being instrumental to his development. Under Brian Clough, Forest went on to win the First Division (now Premier League) title and Football League Cup twice, defeating Liverpool and Southampton in the finals. With Woodcock winning the PFA Young Player of the Year award, the European Cup (now UEFA Champions League) in 1979. Nottingham Forest won a second European cup in 1980 which Tony was part of the campaign until the quarter final. He also scored in Forest's victory over Southampton in the 1979 League Cup Final.
Woodcock was signed by FC Köln for at the time a record transfer fee (the highest fee dictated by UEFA for a foreign player) fee of £600,000 (equivalent to £3,060,000 in 2019), in time for the 1979–80 season. He spent three seasons there scoring 28 goals in 81 matches with FC becoming vice-champions and cup runners up in this period. He returned home after the 1982 World Cup, signing for Arsenal for £500,000. Woodcock was Arsenal's top scorer for the next four seasons, his best tally being 21 in 1983–84; he hit five in a single game against Aston Villa, a post-war record for the club. In all, Woodcock scored 68 goals in 169 matches for the Gunners. After a contractual dispute with Arsenal, Woodcock then returned to 1. FC Köln for a bargain fee of about £200,000. During his second spell there, he made 49 appearances and scored 11 goals. He finished his career playing for Fortuna Köln, making 37 appearances and scoring 5 goals, before retiring from playing in 1990. Woodcock played twice for the England U21 side scoring five goals before going on to join the senior side which he played 42 times for scoring 16 goals, playing at the 1982 FIFA World Cup and in the 1986 FIFA World Cup qualifying matches.
This interview was conducted by Ben McFadyean, founding president of Borussia Dortmund Fan Club London.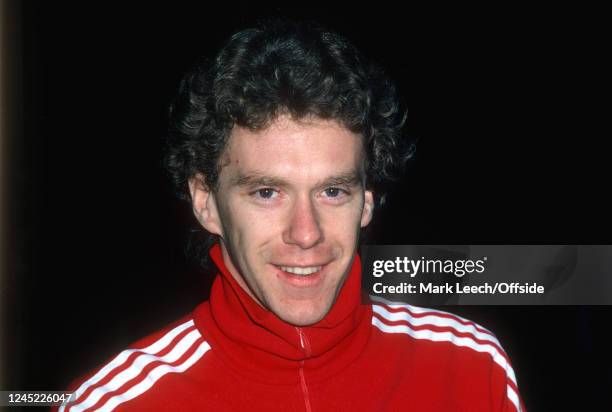 Ben McFadyean (BM): I'm curious to know what got you interested in football in the first place?  And how did you start kicking a ball around?
Tony Woodcock (TW): I hadn't got any interest whatsoever until my parents moved house and I met the local lads on the streets who were into football, they were always a few years older than myself and my brother in law bought me a pair of football socks, just out of the blue and said, 'Oh, I bought you these football socks', I put them on and that got my interest in football and got me going out on the streets and I got into it. I started at about 13, played for the school, played for the local youth club. The youth club used to get us all off the streets basically, which was called Priory Celtic and is today a leading club in local youth football.
So, there's just a group of us there which is now turned into quite a good side and a talent scout came down, Alan Hill, who used to play goalkeeper for Nottingham Forest. And he then became assistant manager to Brian Clough, he came to watch my friend, Martin Smith and he spotted me. Alan asked if he could speak to my Mum & Dad and said, he would like to have a chat with them about me having a trial with Nottingham Forest. I was 16 and Forest offered me an apprentice professional contract.
BM: What did that involve being an apprentice professional?
TW: So, you've got a number of chores to do in and around the ground, whether it's cleaning the ground, cleaning the boots, and all that sort of stuff. And then you have to prove yourself that you're going to be good enough to be offered a professional contract. There were about 16 apprentice professionals, and of course, every one of them thought that they were going to make it and they'd tell you it too. But only two were offered a professional contract from that group- me and Viv Anderson. We started together at Nottingham Forest.
BM: That must have been special, you made it to the first team, what was the money like?
TW: So, once you get your first offer, in those days, I was offered, I can't remember exactly what it was. It was something like £13 (Editor's note: £60 in today's money) a week? And I said I'd like a bit more than that. I would like £20 (Editor's note: £100 in today's money) pounds a week because that's what the second-year professionals the ones who have already been professional for one year got. That got declined. I rejected the offer and for ten days I was left sweating and they finally gave in. That resolve stood me in good stead in terms of fighting for what you think you're worth over the years.
BM: I grew up supporting Aston Villa until I was 11 and then we moved to Germany and I discovered Borussia Dortmund, so I have followed both clubs ever since. Your debut was against the 'Villans', a big day not just because of playing at Villa Park, right?
TW: The debut game was at Villa Park. The team went up at lunchtime, I had rung my friends to share the news, I was really up for the occasion, I think I created the goal and we won one-nil. I had a really good game. I was named Man of the Match. And you know, that was the start and then I played the following week and again was named 'Man of the Match', a good start was made but hard times were ahead of me.
BM: What impression did Aston Villa make on you? Because they were a pretty colossal club at the time in the late 70s and early 80s. Was it a big club to play against and what impression did they make?
TW: Yeah. Big stadium, big club. You had players back then like Ian Ross who had played for Liverpool, he was Aston Villa captain, he was very well-respected and he had been around and he gave me a glowing report after the game. For sure it was a great start at Villa Park. I have always enjoyed playing there it's been a good hunting ground for me.
BM: So you have now broken into the first team, what season was that? Say 77/78?
TW: Let's have a look, just before I broke through into the team, so, it must have been. After a great start for me, and then not performing the following year as a young player, I started going downhill. I had to get back on the slope again, start climbing back up, but it was hard, you know, getting in the first team starting to play properly again, showing that you deserve a place in the team and competing with guys who are seasoned professionals.
It was a tough time but if you want to be a top player you've got to suffer through those moments. The coach was Brian Clough, a legend. He would be like "Woodcock, go and get the balls, go and get the cones, Don't do this. Don't do that." At times I thought, well, I'll probably not be playing but if I do what is asked of me, I might have a chance to sit on the bench. I would be training hard and doing all the jobs around the team, just keeping my head down and showing commitment.
BM: Brian Clough was an amazing character taking Forest up from the second tier and then winning the first division title, a feat not achieved since. Clough was a tough character who had a reputation for working the players hard right?
TW: The demands on the pitch were always, clear and simple and his personality would test you too to the limit. Brian Clough's first game, away at Spurs a cup game, We're are all sitting having lunch and then the Boss comes in and he looks at me and he's got his hotel room keys in his hand and he says "young man here's the keys to my room, outside the door are my favourite shoes, I want you to go and give them some polish, I want you to give them a good clean because I want to look my best tonight" – Just like that…
So, I felt like, well, stand up for yourself Tony, I said, I am having lunch Boss. Mr Clough shouted back "I might be, effing stupid young man, but I'm not effing blind, here are the keys, get on with it." I looked around the table for a bit of support from the pros, but they just put their heads down and ate their food, after going to the manager's room and having cleaned his shoes, our coach, Jimmy Gordon said 'don't worry about it son he used to do this with Gordon McQueen at Leeds United. And he's a good player'. That quote from Jimmy did not really inspire me. Was I not a good player?
BM: So your relationship with the 'Gaffer (Editor: team manager) was unique, that team was special and what achievements let's start with the old First Division title. I mean, Liverpool have won it this season. The first time in 30 years. You'll have played a lot of games against Liverpool back in the day they were a fantastic team in the 1970s winning the European Cup four times between 1977 and 1984, Liverpool was the team to beat but what a run for Forest, promotion, the title and two European cups what was so special about the team?
TW: Forest was a great team to be part of at the time, Clough takes us from the second division but remember we only finished in third place so the title the next season was all the more remarkable. We just scraped up, but then things started to happen pretty quickly. You know, Peter Shilton came, Kenny Burns came, Archie Gemmill came things started moving quickly and the way we started playing well. Playing our first game at Everton at Goodison Park in our first season in the First Division it would take us about 10 minutes to get used to the pace in the first half, but once we settled down, you know, we were a good team. And as the season went on everyone kept saying the bubble is going to burst. It never did, it just got bigger and bigger – Good times.
BM: An amazing run. I think it stunned the whole country, as you say because just getting promoted to the First Division itself was an achievement, I guess, survival would have been the club's number one priority or a mid-table finish but it was amazing to win the 1977/78 title and with a 7 point lead over such a dominant side like Liverpool…
TW: Even though we only have just got promoted we never looked back. A 42 game unbeaten run we just went on, you know, strength to strength.
BM: And then the club has qualified as champions for the European Cup 78/79 and what a run it turns out to be….
TW: When it came to the European Cup games you know we were all so excited to play football in Europe. So, what happens when the draw is made? We only go and get drawn against the champions of Europe, Liverpool.
The home game that we won 2-0, will go down as one of the Forest fans favourite ever games, and the second goal itself that was nicely worked.
BM: But what about the semi-final? You play against your future club FC Cologne with whom you spent 5 years. And that first leg was stunning at the City Ground in Nottingham.
TW: To this day I like to watch that game, the full 90 minutes because it was an unbelievable game. Leading up to the game, Peter Taylor (assistant coach) says 'we've seen Cologne, they've got no pace we are going to be fine'. 'They've got a goalkeeper (Toni Schumacher) who can't catch the ball and then he went through their line-up one by one talking about their weaknesses and our strengths. And then we went and played and we started badly, I think it was Archie Gemmill who got an injury and that changed the structure of the team and it took a little time to get our game sorted out.
Ian Bowyer was moved into position and then Frank Clark to compensate for losing Archie, you know, we used to pride ourselves on being able to keep a clean sheet. And this time we were all over the place before we knew it they were two-nil up. We're in a state of shock and thinking, well, perhaps we're not as good as we think. You know, we could have been dead and buried there at three-nil. But we had a good team and we started to fight our way back and everyone was amazed when we went in front 3-2 but a mistake by the great Peter Shilton let Cologne back into the game at 3-3.
BM: …and then the second leg, we managed to keep a clean sheet out there in Cologne and you did what you had to do, 1-0 was enough…
TW: We travelled out to Cologne a couple of days before the game, the fight-back meant we were confident going into the second leg. We arrived in Germany and the players thought we'd be heading down to look at the pitch and have a team-talk and get focussed but 'Cloughie' was different he said 'it's a football pitch, we've been all around the world, we know what those are like, we don't need to do that". I don't think we even trained, we just went for a jog. We had a few beers that night before the game and played cards, it was pretty relaxed.
We were staying at the Queen's Hotel in Cologne which ended up being where I stayed for most of the first season when I joined Cologne. The manager who I got to know well came over to me and said to me 'my staff and I lost all our money on that game in Nottingham because Forest conceded three goals in a 3 – 3 draw, now Nottingham Forest come over to the hotel have a few beers and glasses of wine at night and play cards, there is no way that this lot are going to beat FC Cologne, right'? So, the hotel manager and his staff put all their money on FC Cologne getting to the final. But of course, we got to Munich- everyone at the Queens Hotel was very disappointed but realised that Forest was a great team and I would also like to think that he thought that Cologne with Tony Woodcock has signed a good player.
BM: A psychological victory for Brian Clough, he was famous for his ability to motivate teams, and with Forest, he won the title and against the odds. And then you reach that European Cup final, what was 'Cloughie's approach for that game?
TW: It was a hot, sticky evening in Munich, we had the confidence that we could win the game and wanted to put on a show for the thousands of Forest fans in the stadium and the millions watching back home on TV. As it turned out the Swedish Champions were difficult to play against and we had to put in a workmanlike performance.
We had two or three shots we might have put it away early, which would have made the game easier and after we had picked up the cup we went into the changing room a little disappointed but Brian Clough and Peter Taylor both said 'look lads you've had a fantastic tournament, played some great football and deserve to be European Champions.
BM: I did a series of interviews 20 years after Borussia's 1997 European Cup win, also in Munich, I interviewed three of the squad members, Heinrich, Kree and Pedersen and the feeling I got was, especially from Jörg Heinrich, that the win of such a title takes a long time to sink in. It's very similar hearing you speak about it, the details of the game are missing, a massive whirlwind experience. The finals I have watched in person, the 1999 European Cup Winners Cup or the 2016 and 2017 DFB Pokal finals are always so incredibly hard-fought and seldom one-sided. You achieved something 95% of players will never achieve that night something to be proud of…
TW: I've actually got two European cup medals because although I left Forest for Cologne just before the quarterfinals in the second European adventure I was awarded a 1980 European Cup winners medal. I'm actually the only Forest player who's never lost a game in those two European Cup campaigns, Forest's first loss was in the quarterfinals when I had moved to Germany, leading up to that we'd never lost a game with me on the team.
BM: That's a remarkable statistic what can you tell me about Trevor Francis who scored the final goal, a lot of fans looked up to Francis he was the first million-pound player in the First Division transferring from Birmingham City to Nottingham Forest, what amazed me at the time was when you transferred to FC Cologne you went for a Bundesliga record of almost a million Deutschmarks, huge pressure I guess?
TW: Yeah, for 2,500.000 Deutschmarks, a German record transfer fee demanded by the UEFA rules at the time. The pressure was there, but I always made it work for me. The transfer fee was a German record but I could have joined another English club. Manchester United was interested and would have had to pay double the amount to sign me. So, like today's young players coming to Germany, it's not a risk because you know, the English player could be sold back to an English club for the same money or more. Trevor was a first-grade bloke, we played together upfront always went very well, but Forest then also had Gary Birtles. So, Trevor ended up playing on the right, but it still worked great, we were privileged to be part of that set-up.
BM: I read that the transfer itself was the curious story, the great Kevin Keegan was over with Hamburg, but you could have gone to any league, why Germany? Was it Keegan's advice?
TW: As a player at that level you would have those agents getting in touch all the time saying 'I have got offers for you from Italy, from Spain or Germany', all the time. I spoke to Kevin who was out in Germany, he said 'be careful, choose the right club' he had won the Bundesliga title with Hamburg in 77/78 and he loved it in Germany, so that got me interested.
The Cologne transfer story was, after arriving back at Heathrow Airport from pre-season training for the start of the new season, an airport porter came over and slipped a note in my top pocket and asks me to ring the number on the paper, it was a Belgian agent and the rest, as they say, is history.
BM: I lived in Germany up to the age of 19 and had a season ticket at Borussia Dortmund until 1990, I saw a lot of games with your involvement live and on TV on the Sportschau, obviously as an Englishman I was pleased, to see one of our own on the pitch.
I used to buy that seasonal guide by Kicker the 'Sonderheft', I remember very distinctly that white Adidas kit with the red stripes and 'Doppeldusch' the sponsor on the front, Stefan Engels, Pierre Littbarski so many greats and FC Cologne had won the double the season before in 1977-78 you followed Keegan's advice and chose wisely?
TW: Cologne was incredible, I went down to the first training session, in England the training sessions are private, but here I get there and 10,000 fans were waiting to see me, the enthusiasm was amazing. Great fan adulation at FC Cologne. But the expectations were high, you needed to earn the fans respect. If you weren't performing right, then the fans would start kicking off, massed whistling is how the fans show their discontent in Germany, it's not what you want, a deafening sound but you get used to voicing their passion when you're a player it's part of the game.
BM: I guess amongst your many highlights was being FC Cologne's top scorer in 78/79 with 15 goals of the 39 you scored in total in 130 matches with the club?
TW: Yeah, Cologne was a top side at the time, for every game we played we had 16 international players, so the competition to make the 11 was immense. Under Rinus Michels (coach at the time) we used to work very hard. He would say 'I know you can play, I want to see how hard you can work', Rinus would set a time for training for but if any player wanted to work on any individual techniques he would have to fit the session in before or after the official training session by Rinus Michels. Michels was tough but when you're wanting to be a champion that's how it is, you get out, what you put in.
BM: You played in a phenomenal FC Cologne team including Germany internationals like Klaus Fischer but also Toni Schumacher, in 1981/82 your last season with FC Cologne before your move back to England the 1982 World Cup in Spain took place, Cologne's goalkeeper was also the main goalkeeper of the national team. There was a lot of controversy regarding that punch in the face against France's Patrick Battiston in the semi final, which ended 3-3 and Germany won on penalties, did Schumacher deserve that reputation for ruthlessness?
TW: I think what went down badly was that Toni played with the ball when the French player was being stretchered off, there seemed to be little to no reaction to the injury. I think Toni was probably as shocked as the rest of the players, but it didn't show. Toni tells a few stories about how he went to apologize to him on a number of occasions and later Toni was asked to go to a hotel and meet Battiston thinking it would be a private meeting, then it turned out to be a full-blown press conference that had been organized, it caught Schumacher by surprise. As people say, there are always three sides to a story and one has to be part of it to know the whole story and how it panned out.
Playing with him at Cologne I got to know him pretty well, Toni was passionate about his position in goal and wanted to win, he didn't 'smash' the French player on purpose it was bad timing when coming out of goal. Toni was a really good keeper, it was a bad accident but there is nothing wrong with wanting to win and being passionate about the game, he just needed to react better to what happened on the pitch.
BM: You were with FC Cologne from 79-82 but then you transfer to the English First Division. How does that come about? Manchester United and Liverpool both wanted to sign you at the time, why did you end up playing at Highbury?
TW: Germany's Bundesliga was the best league in Europe at the time, but I had a long-term plan to go home back to England, I wanted to play more regularly for the national team. I planned to participate at France 1984 the European Championships. Arsenal kept coming over to watch me, they did their homework and the fact is that London was appealing too. Another reason was the tradition of the club, obviously when you know a club are interested, you then you do a bit of research and look into the history of what the club is about. Arsenal impressed me and kept at it and their representatives were very respectful and that is why I signed for them.
BM: It was quite a team at the time, I lived in Oxford for a long time, a fellow I used to see a lot there, as he lives in Oxford, was Martin Keown who is one of the great defenders of Arsenal fame, you know, a lot of younger fans said to me, 'Tony Woodcock that was a time back' but you were playing with guys like Keown, Tony Adams, 'Rocky' Rocastle, David O'Leary all great Arsenal names, so you are unforgotten at Arsenal then?
TW: Four seasons is a long time in a footballer's career. There's a good story about Tony Adams, you know he was a hard worker, one occasion we were training at Highbury on a Friday. I went out on the pitch and I said 'Tony, who was a young professional at the time, fire some balls up to me'. I did some turns firing the ball into the Clock End goal from the edge of the box. And Tony was impressed he said 'do you always know where the goal is without looking?' 'Always' I replied, 'But it's always nice to have someone in the net, so I asked Tony's dad who was standing on the side-line watching if he could go in goal which he did. Next shot I took, I turn and smash it except Mr. Adams, Tony's Dad is suddenly sitting in a heap at the back of the net, he gets the ball right in the face and his glasses are knocked off his face. Tony's Dad soon picked himself up, loads of stories from that time, we didn't win any silverware, the club was in flux but a truly great spirit at the club back then.
BM: …and you go on to be top scorer for the club four seasons in a row? What made the team so special? I grew up supporting Aston Villa, finding Borussia Dortmund at 11, your colleagues David O'Leary and Martin O'Neill both coached Aston Villa. O'Leary was pretty indifferent as a coach, Villa never finished better than 10th in his four seasons with the club, but O'Neill took Aston Villa to the top 6 and the League cup final, and for me, is one of the most inspirational coaches Villa ever had. How does it feel now when you see your former player colleagues becoming coaches? Could you see that someone like Martin O'Neill was going to be a good coach later? I mean, did he have that sort of that kind of mentality as a player? A tactical and analytical mind?
TW: Martin did, he was already studying law before moving into football, Yeah, he knew where he was going and what he was doing, you could see that. I used to have little arguments with Martin but just fun, he was a smart guy. What he did was he learnt his trade as a football manager. You know as a coach he started at the bottom in the Conference with Wycombe Wanderers and worked his way up which is the best way and that's why he has stayed the course. Dave sort of moved in on a couple of big jobs straight away, he started with Leeds, got the jobs and good players around him. I'm not saying that was easy for O'Leary either but getting in at the top helps, right? Martin has been very successful and I am pleased for him, I'm pleased for both of them.
BM: All the fans I've spoken to have always thought extremely highly of you, it must be great to go back to Arsenal now, you probably get a wonderful reception when you do come back but English football has changed, for me, I prefer to go to the Bundesliga, tradition is alive there, it's a different kind of game, the Premier League has become too professional almost, clubs are almost like franchises.
TW: Now and again I head back to Arsenal, it was a very well-run club and still is. There is a real passion at the club, the current crop, I feel are not custodians of the shirt as in the old days but structured as a sports franchise. Too many chiefs and not enough Indians in my view, it's different now but I suppose that's progress?
In the final week before the closing match of the season 05/06 at Highbury, I was in London filming for German television with Boris Becker. We filmed in a local pub just around the corner from the Highbury I got in touch with the club for access. Boris and I met Paddy, an Arsenal man through and through who had looked after the inner sanctum of Highbury for many years.
So I introduced Boris to Paddy and Paddy went straight into his cupboard and got a whiskey bottle and we were there in the old catacombs inside Highbury. Paddy only allowed certain people into his revere and after a few whiskeys, Paddy said 'it's not the same here anymore', 'money is taking over' and he suddenly stopped and started singing "Oh Danny boy..". You could see the tears coming down his face, he was emotional and after asking him if he is looking forward to moving from Highbury to the Emirates, he said 'I won't be moving, they've made me redundant'.
I felt bad for Paddy. So you have got this iconic figure and the club are letting him go, just like that? He said 'they're not taking a lot of the people who have been doing the work, you know the club is bringing in electronic turnstiles, everything is changing'. So I got onto the club, and I said to them what an iconic figure Paddy and how he is such a big part of the club and to cut a long story short, he went on holiday with his son to Spain and died of a heart attack – a broken heart in the view of many Arsenal fans. The film that German TV made of Boris, myself and Arsenal, I sent to his son.
BM: An incredible story of one of a true great of the game, at least that's my feeling, that is one of the reasons I write Tony, to capture a spirit of football that is getting lost with the modern game. It's a privilege hearing those stories and what you are saying about England and Arsenal mirrors what Bundesliga players like Marcel Raducanu have been saying to me over the years. Despite German clubs being a lot more loyal to the players and them being more of a family set up including the 50+1 members ownership which all except four of the Bundesliga clubs (Editor: Wolfsburg, RB Leipzig, Bayer Leverkusen and Hoffenheim are the exceptions) have, essentially, the clubs are profit-motivated.
I am not saying I don't feel part of the club at Borussia Dortmund, I'm a shareholder at Dortmund, I'm also a member and I was a former referee with the Dortmund football department until the early 90s and I run the London fan club but the atmosphere has changed as a fan too, the club is more distant, more corporate, it's sad to see even BVB losing their soul, there is a corporate feel about things which feels alien to football and to what I remember of BVB in the '90s. Marcel Raducanu who was an incredibly gifted Dortmund player says that it's very hard for him to even get a ticket to a match anymore, in 18/19 I ended up buying his ticket to the Derby myself.
TW: The Bundesliga has an appeal for the reason that it is still a fan-driven league but clubs are profit-driven, more than ever it's about money and there is a lot of money involved, it's harsh but it's also an economic reality I wouldn't say Germany has gone quite the way of the Premier League and 50+1 means there will always be greater involvement of the fans
BM: Let me touch on BVB, you have been friends with some of the players from the 80s era like Marcel Raducanu and have played in Dortmund many times in the Bundesliga what makes Dortmund for you such a special football club? Are there many similarities between BVB and FC Cologne back in the time you were there in terms of community and family ethos? What do you like about Borussia Dortmund as a team in terms of how they play and as a club?
TW: The atmosphere at the games is number one. The region the club is in is a real football region. There is an outstanding local derby with Schalke, the loyalty of the fans, you know in the Bundesliga you have got free buses to the grounds, the beers at the ground and a third of the price of England, I think they have got it right. In London we've got 13 Premier League or Championship clubs, they have just got one in Dortmund, and that makes the city 'black and yellow. For the last few years, BVB has been the team to support, lots of friends of mine in England and other countries realize what the atmosphere is like there, BVB is an attractive set-up.
BM: …And are a youth-led club, that for me feels right, and much like FC Cologne who has some top youth teams and competes very intensely with BVB at the top of the U17 and U19 Bundesliga tournaments. BVB have got the right emphasis on youth development as a former coach would you agree?
TW: I was the third English player to play in the Bundesliga. From what I can see, for the young English players like Jude Bellingham who has just joined BVB at just 17, it's a pleasure to play in Germany now, they seem to be happy, the German clubs seem to be getting a lot of young players from the Premier League clubs and when they return to England, like Sancho will eventually, they are better players and the Bundesliga clubs make a good return it's a good deal all round and the German game is benefitting from the skills as are the Premier League clubs.
BM: Finally let's touch on England, you got 42 caps, played with great legends especially under the late Bobby Robson (Editor: England Coach 82-90) and some of my favourite ever players. Bryan Robson, Kevin Keegan, Trevor Francis, Terry Butcher, Trevor Brooking and played at the FIFA World Cup España 1982. England was undefeated, you played against Germany and on the other side of the pitch were a lot of your FC Cologne friends like Schumacher, Littbarski, Engels, Klaus Fischer what made the tournament so special?
TW: For me playing my last game for FC Cologne weeks before the World Cup, it was just a six-week period to recover and then, having been on the bench for the first two games against France and Kuwait, suddenly my next game is against Germany. The World Cup, it's not a long tournament but you have to win the games and in the second round we drew against Spain and Germany and went out. So you get to the World Cup and go out without losing a game. It was disappointing but that was the system, the experience of being a World Cup with players like Zico and Maradona is not one you can fault though, playing for the national team is always a highlight.
BM: Let me lastly ask you about another great England coach, you had a loan spell in 76/77 at Lincoln City under Graham Taylor who then went on to be Aston Villa and England manager and Lincoln City were flying high at the top of the third division at the time with big crowds and you were scoring lots of goals. What was Graham Taylor like? Because for me, certainly, he was one of the great Aston Villa managers as well. Taylor was one of the best England managers? Italia 90 certainly struck a massive chord with me were the 'Three Lions' unlucky to get knocked out in the Semi-final by Germany?
TW: Germany was and usually are very hard to break down. You know in football you play the game, you win championships because you deserve to win them, England in the semi-final going out on penalties was unlucky but if you cannot get the ball in the back of the net you get knocked out.
Taylor, as a manager, was brilliant. He used to do some strange things at Lincoln City. Before we went out. We used to have this routine where everyone was ready to go out and you'd have to run out and bang on these containers, and in the dressing room, you'd have to stand up on your seat and bang the walls. So, you go '1, 2, 3, 4' and bang and shout. And this was like a pre-match ritual before you went out on the pitch, a pre-match routine that worked.
Before the game used to take us to the pitch before the match and tell us to stand in the position we were going to be playing in and he would say to me as a striker 'walk around the penalty box and act like you are going to put the ball away' you would get it the results showed it. Now you would call it visualization, Taylor died far too young, he was ahead of the game.